Why choose Europack?
International moving and shipping leader in Canada
All risk insurance : We handle each detail of your door-to-door move throughout the world
Best prices in Canada
Agents around the world
Introduction
As one of the leading overseas moving specialists in the world, Europack has the resources and the experience needed to ensure on-time, on-budget moves. Europack works only with the best moving companies in the world, leveraging our high business volume to obtain real cost savings for our clients.
Our Promise
Whether your goods travel by land, sea or air, Europack handles each detail of your door-to-door move throughout the world. From packing household goods to coordinating your shipment and delivery, preparing customs documentation to arranging temporary or long term storage, Europack makes an international move a stress-free experience. Read what our customers had to say about it.
You can move with peace of mind!
International shipping and moving leader in Canada
Our international moving professionals are fully dedicated to offering our clientele the best level of services for residential clients or companies who are looking to relocate from or to another country to or from Canada and who need our international moving services. We can respond to the needs of our clients when it comes to freight, container, car or overseas cargo shipping.
Europack movers are fully committed to providing international customers with the best array of services. We have been moving many of the top companies in Canada as well as residential clients for several years, so you can rest assured that our thorough planning as well as the high quality of our shipping services will result in a successful moving experience.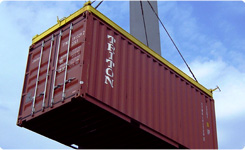 Moving boxes and packing tips – contact Europack for any packing needs for your move!
Proper packing is important to an efficiently executed move. Our packing experts have the best know-how to make sure that your belongings properly arrive at destination. Our packing tips can be useful if you need to do your own packing, and we can also supply you with packing materials for your move.
Our packers will bring the required packing materials to your company or home. We use only the best packing materials for your international move in order to reduce the risk of damage during the moving process. We also use specific boxes, packing materials or cartons for specific items. We use special boxes for heavy items like books and records, special cartons for mattresses, china and glass and hanging wardrobe boxes for clothes.
Expert services and logistics for exporters and importers
Europack offers clients a variety of expert import and export services in order to suit the international needs of companies worldwide. Our logistics professionals team can handle all your international importing and exporting needs. Our expert network of freight forwarders associates allows us to give excellent services like export packers at your origin and several other services at your destination. Our knowledge of procedures for imports and exports in Canada and overseas will make sure that your moving experience is an easy one, and our export import professionals can streamline your entire importing and exporting operation.
International cargo shipping and delivery for your company overseas
Europack is a company that specializes in all facets of shipping and moving. So if you need a worldwide or overseas delivery service in order to ship a container, freight or any general cargo, we are a leader for international deliveries in Canada. Contact Europack for any information regarding our shipping services:
Cargo shipping
International shipping
Freight forwarding
Freight shipping
Container shipping
Standard and economy international shipping rates
International deliveries
Overseas shipping
Or for cheap rates for quick international delivery
The best moving services to ship your goods from and to anywhere in Canada
We have domestic and international moving agents in the following cities in Canada:
Toronto, Ontario
Ottawa, Ontario
Montreal, Quebec
Quebec City, Quebec
Vancouver, BC
Calgary, Alberta
Fredericton, New Brunswick
Our shipping and moving experts can help you in planning your move to any city in Canada including:
Winnipeg, Manitoba
Edmonton, Alberta
Mississauga, Ontario
Markham, Ontario
Oshawa, Ontario
London, Ontario
Hamilton, Ontario
Saskatoon, Saskatchewan
Regina, Saskatchewan
Cape Breton, Nova Scotia
Richmond, BC
Halifax, Nova Scotia
Compare our rates…you will see that they are among the best moving and shipping companies in Canada for the amount of destinations and services offered by our company!
Shipping overseas to any international location
Europack is a packing, moving and shipping leader to and from Montreal, Quebec and many other major cities in Canada. Whether you're shipping containers or any type of freight to and from the following countries or any other country, contact us:
England
The United Kingdom
The United States
France
Belgium
Ireland
Italy
Germany
Netherlands
Sweden
Switzerland
Australia
The UAE (United Arab Emirates)
New Zealand
India